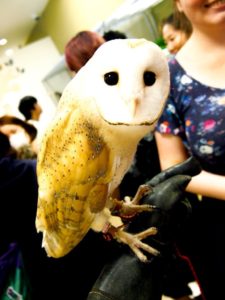 People maybe already heard of the phenomenon cat café's in Japan. They are extremely popular, because owing a pet in Japan is not so easy. But recently they added a new concept to this, Owl cafe. It's the same as with cat cafe's, you pay so you can be with the owls for a certain amount of time. Like maybe some people already know, I'm a big Harry Potter fan, so I needed to see this. And luck at my side there is one on Fukuoka, So that is where I went with some friends, to the owl cafe Hakata.
Owl cafe Hakata
My experience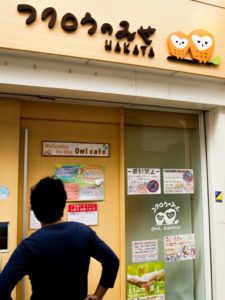 We arrived a bit early, so we needed to wait. But we where also lucky there was still a few place for the next hour so we could directly enter. After we entered we needed to go upstairs.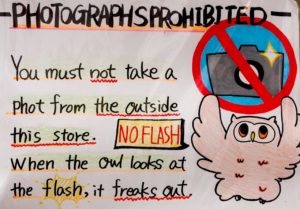 There we got or drink, disinfected our hands and where told the many rule we need to obey. (Like, no flash when taking pictures, you can only touch the owl on his head or back. … ) All these rules where told in Japanese, but they had also English instruction (with many funny translations errors).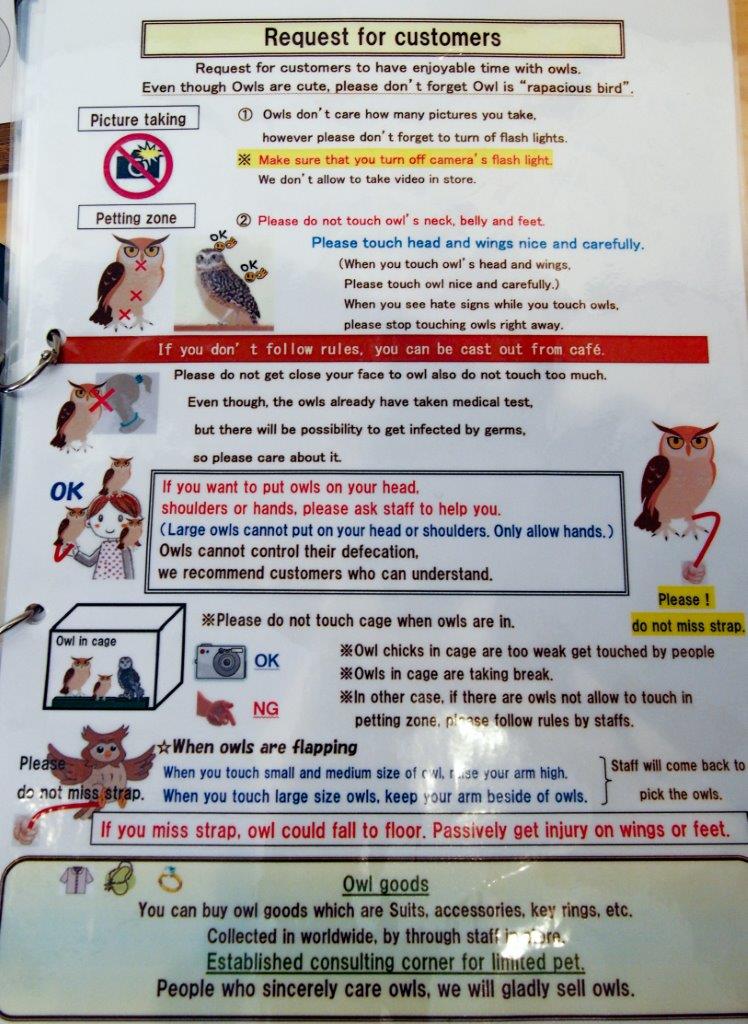 After the instruction and or drink (that took like 15-20min) we could finally go down to meet the owls.  Everyone had the chance to hold all the different owls. The instructors gave everyone a nice amount of time to hold it, pet it, and of course to take pictures. You were allowed to take the owl on your hand, shoulder or even on your head.  This is all on your own risk. But it's considered to bring luck if one of the owls does his businesses on you. After 40min time was over and we went back upstairs to take or stuff.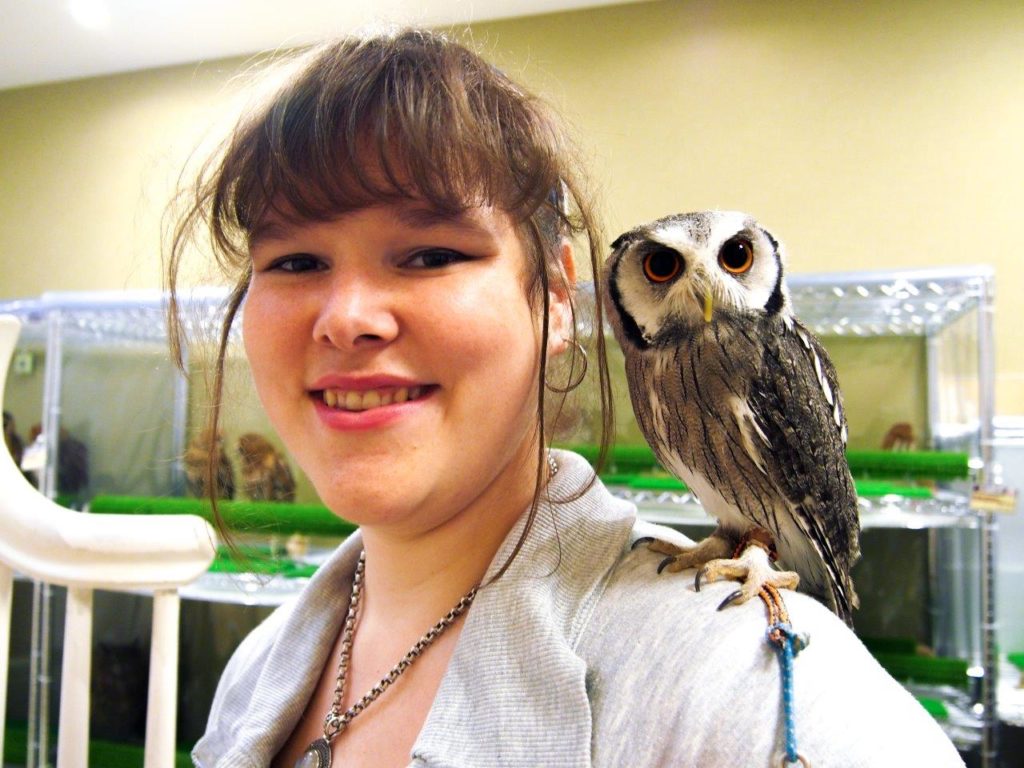 Would I do it again?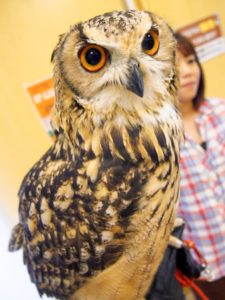 It's a nice experience, but at the same time I think it give a lot of stress to the owls everyday. The many rules helps to reduce stress, but sometimes there are people who are loud and disturb the owls. Because they never use the same owl every hour. They have time to rest. So even with this in mind I think I would maybe do it again. The owl family in Hakata handles the rules very strict, so that it give the owls the least amount of stress possible in this situation.
I want to go to
T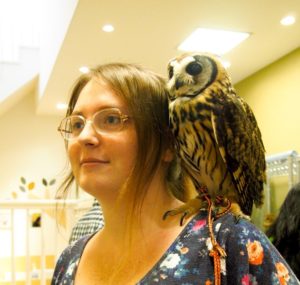 he owl cafe Hakata is one of the three owl family cafe's. The other one's you can find in Osaka and Kyoto. Every beginning of an hour a group of people can enter the shop. So there is a possibility you need to wait. There is also a limit on the amount of people who can enter each time. So if you are with a big group you can go to the shop and reserve a hour for the same day for you group (that way you are certain you all can enter at the same time)
Where is it?
The owl cafe Hakata is located in the Hakata kawabata shotengai. The best way to go there is to take the subway to Nakasu-kawabata subway station and take exit number five. There you will enter directly the covered-up shopping street, that's only accessible for pedestrians and bicycles.  walk all the way to the end of this street there you should be able to find the owl family cafe at your right side.
important information.
Opening hours are from Tuesday-Friday from 12:00-20:00

On Saturday, Sunday and holidays from 11:00-20:00

the owl cafe is closed on Monday (If Monday is a holiday the owl cafe will be closed the next day.)
price are:

1500Yen for an adult (If you want to drink beer it 1700yen)
1000Yen for Children (0-12years old)
Here you can find their website (Japanese only)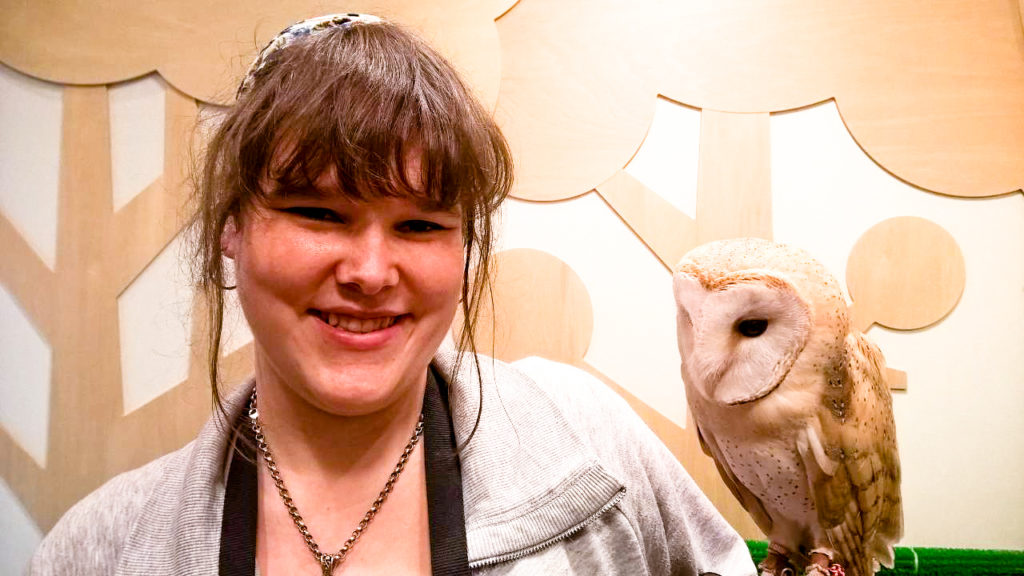 If you have remarks, suggestions, or questions you can always post them in the comments section, on my Facebook page, Google+ page or through Twitter.
(This post is also pinned on the Kyushu-ambassador map, so for more information you can click here )