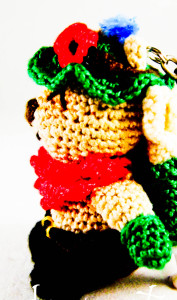 Here in Kyuuto's Amigurumi, you'll find all the Amigurumi creations I've made up to now. I divided them into three different galleries, to keep everything organized.
---
Hier in Kyuuto's Amigurumi, vind je alle Amigurumi creaties die ik tot nu toe heb gemaakt. Ik heb ze in drie verschillende galerijen opgedeeld, om de collectie overzichtelijk te houden.
Cuddly toys/ knuffelbeestjes
I first started with the normal Amigurumi, which you may have heard of. I don't make them regularly anymore because I prefer to challenge myself with my small needle. But sometimes I'll make something new, when I feel like it.
---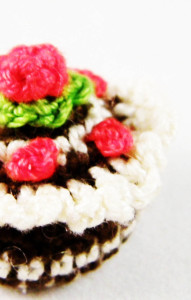 Ik ben begonnen met normale Amigurumi knuffeltjes te maken, die waar je waarschijnlijk al van gehoord hebt. Tegenwoordig maak ik ze niet meer zo vaak, omdat ik liever mezelf een uitdaging geef met mijn fijne haaknaald. Maar soms maak ik er toch nog eentje, omdat ik er zin in heb.
Amigurumi Collection
Miniatures/ mini's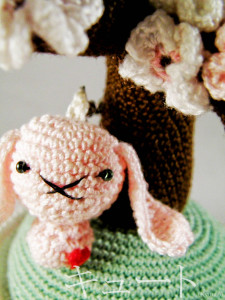 Because I prefer to make my creations so that they are useful even for grown ups, I crochet some with a small needle (1.50). I transform them into cell phone straps and key chains.
---
Omdat mijn voorkeur uitgaat naar creaties die ook handig kunnen zijn voor volwassenen (diep vanbinnen is iedereen nog een beetje kind) , haak ik veel van de leuke patronen met een fijne haaknaald (1.50). Deze mini creaties transformeer ik dan in GSM-hangertjes en sleutelhangers.
Miniature collection
Cell phone straps/ GSM hangertjes
Keychains/ Sleutelhangers
Pattern/ patroon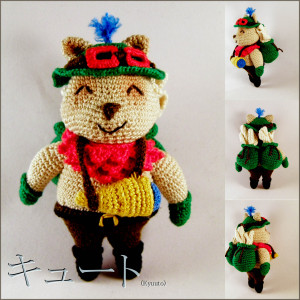 I once had the courage to design a pattern. Because a lot of my friends are hugh fans of 'League of Legends', I decided to design Teemo, a hamster-like creature. The pattern is not perfect but it does the job. If you want to try to make it you can find it at my Etsy store through  this link.
---
Ooit had ik de moed om zelf een haakpatroon te ontwerpen. Omdat veel van mijn vrienden grote fan zijn van het online spel 'League of Legends', besloot ik Teemo te ontwerpen, een hamsterachtig wezen. Het patroon is niet perfect maar duidelijk genoeg om zelf de uitdaging aan te gaan. Als je dit wil proberen kan je het patroon vinden op mijn Etsy shop (Het patroon is in het Engels) via deze Link.