On the same day that I graduated at GenkiJACS I also moved to my new place for the next year. The first two months I stayed in Ijiri at a guest house. And although for a short period this was fine, I could not image to stay there for one year. But if you ever decide to explore Fukuoka and are looking for a cheap decent place to stay I definitely recommend Ijiri. That why I'm going to introduce my old and new place in today's post: I moved to my new place.
I moved to my new place
Around the period I left Belgium I made a post about the possible place where I was going to live the next year. Turns out I was pretty accurate. I got my first choice of the dormitory that I wanted. But first I needed to live for two months somewhere else. And this was Ijiri.
First my old place: Ijiri
Ijiri is not the centre of Fukuoka City (if you ask me). If you look at the map it's still in that area, but you can't call this the centre any more. But because we are in Japan this create not a problem. In my opinion it's the best of the two worlds. I'll explain more about this after I tell you about the dormitory.
SHARELY STYLE HAKATA
If you ever go to GenkiJacs and you choose for one of the cheapest accommodations, you will get almost always a room in this dormitory. And although it's old, worn out and the second floor kitchen is dirty. These are the only few down sides that I can mention. Also at this moment they are renovating the dormitory step by step. So there is the possibility that in the near future these few downside disappear totally.
What do you get?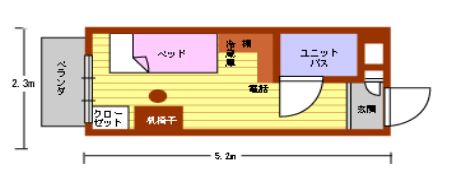 The picture above shows you the layout of a basic room. The rooms are small but still you get quit a lot for this small place When you enter the genkan (a small place where you remove your shoes) you have directly a small closest where you can put your shoes in.
The first and only other door you will encounter in the room gives access to your bathroom/ toilet. It will probably be the smallest bathroom you ever seen in your life. You have a bath/shower an mini sink and then there is a toilet. (small but you have everything)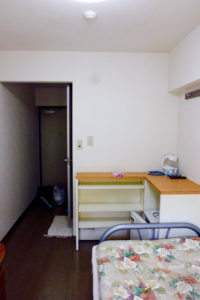 Next you enter the rest of the room, there is a bed, a small counter with shelf underneath and a small refrigerator. There is also a desk and chair and right besides the balcony door there is a small space where you can hang some cloths. At last you have a small terrace where you can hang out your laundry.
Where is it located?
The dormitory is ideal located. Only two minutes walking to Ijiri station. For 250 yen you can reach Tenjin station in 10-15 min. If you walk a bit more (like 10 minutes) you can reach Sasabaru station. For 210 yen you can reach Hakata station in a merely 10 min. In Hakata station you can take the shinkansen. This means, you have easy access to the rest of Japan.
What is all included
A mini refrigerator (you can also put food in the refrigerators that are located in one of the three kitchens, as long as you put your name on your food)
The rooms all have an air-conditioner (a life safer in the summer!)
There is internet in all the rooms. (Be aware that the internet in the rooms are wired. Bring your own cable, or buy one at a store. There is wireless internet in the kitchens)
There is an separated laundry for men and woman. These you can use for free. There are also dryers, but to use these you need to pay (but they are not expensive)
There are three fully equip kitchens (on on the first-, second floor and a girl only kitchen on the six floor)
You are pretty close to the centre of Fukuoka (2 min walking from Ijiri station and 10 min walking from Sasabaru station)
Fun times
I really enjoined my time in Ijiri. Sometimes the people can be a bit noisy. But this is something you can't control. In my time there I met many new friends. And this is I think the main aspect of Ijiri. If you want. Ijiri can be the most easy place to make new friends.
—Here you can find there facebook page and website for when you are interested.—
My new place Nishijin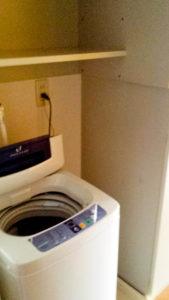 For my longer stay in Japan I wanted to life a bit more comfortable. Therefore I decided I wanted to stay at a real dormitory. There are a few rules here. If I'm going to stay out I need to fill in a paper. I can not bring boys to the room. But these limitations where for me way smaller then the benefits of this dormitory. These are the benefits: breakfast and dinner is included for six of the seven days of the week. I have a small kitchen in my room and a washing machine. The last benefit, it is only 10 min walking from the beach.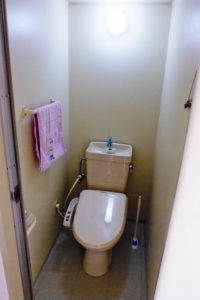 The rent of this dormitory is same as a normal apartment therefore I though this was a nice option. I do not need to make breakfast. The same for dinner. The ladies from the kitchen are really sweet and we have a really nice concierge that take care of everyone like we are his own grandchildren.
How does my new room looks like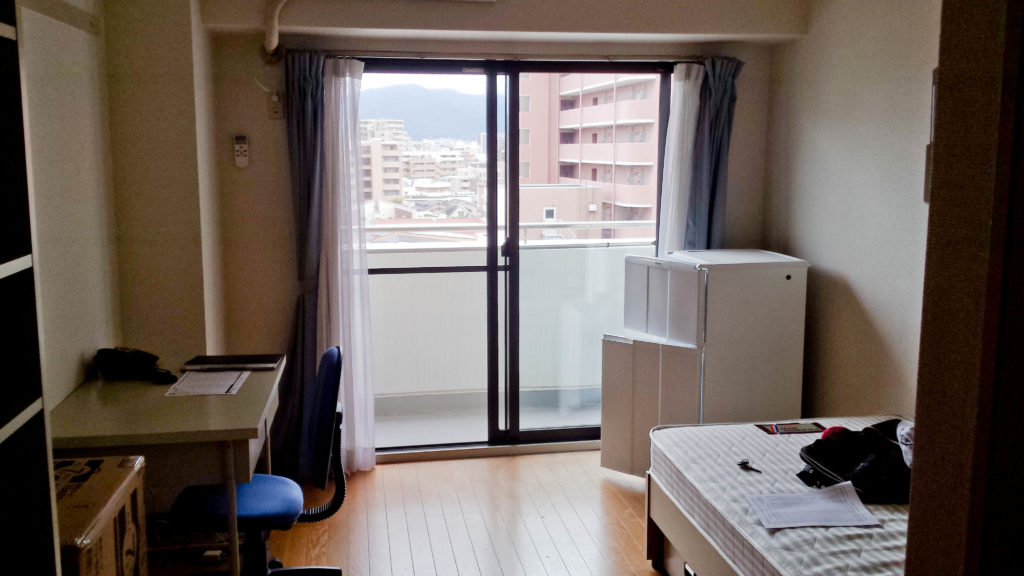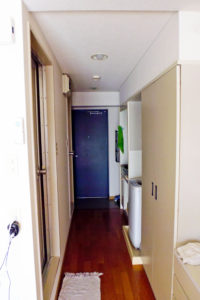 I'm not going to tell so much about my current place like I have done about my room in Ijiri. Because this place can not be rented when your are not a student. I will show some pictures and I hope to add a short video in the future.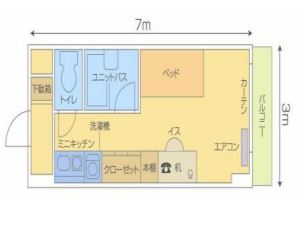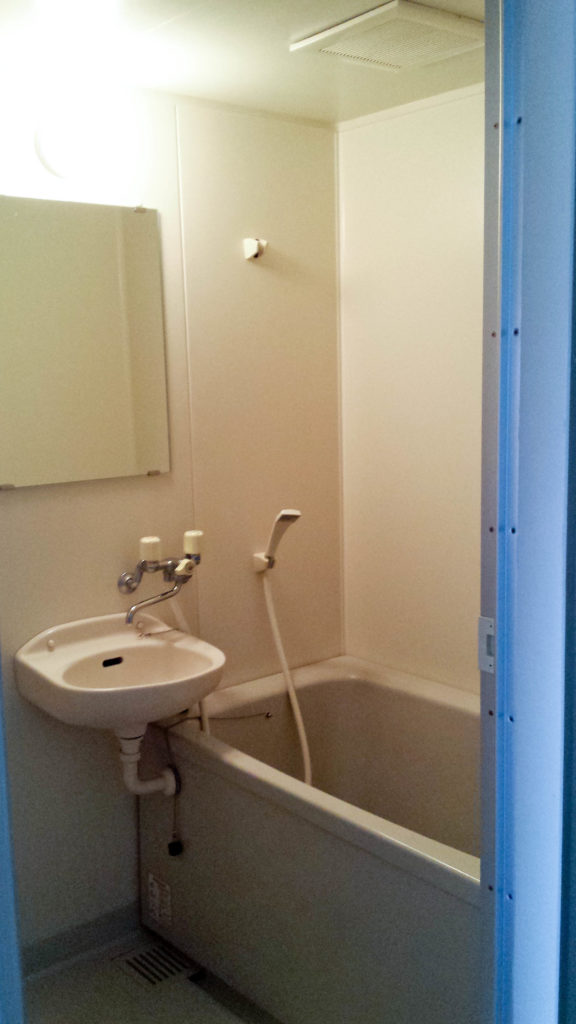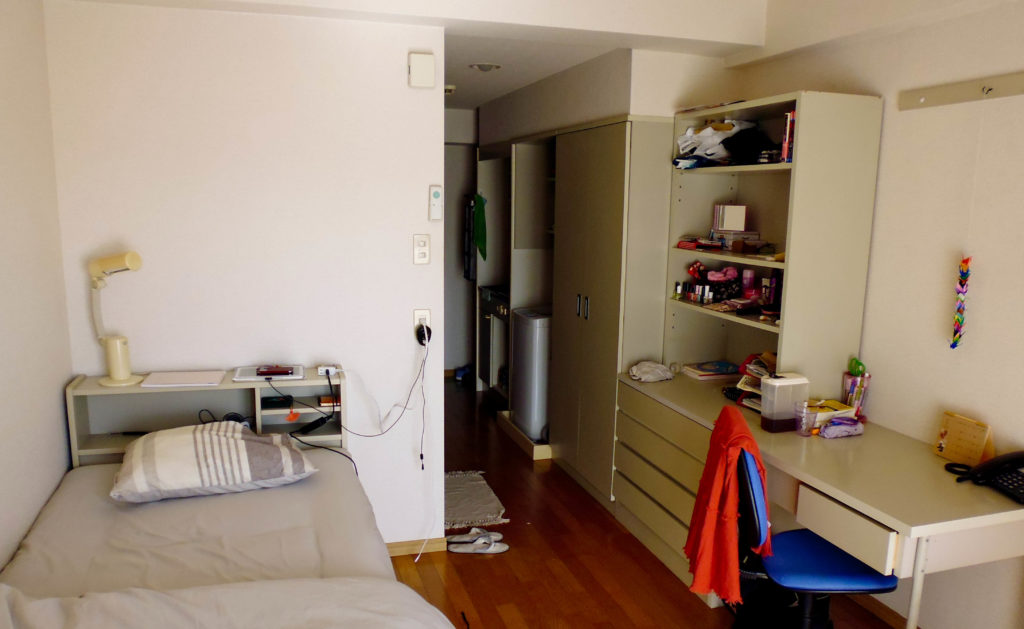 I really hope to make a short house tour very soon. So I can show a bit more of my place. So what do you think? is it small? Would you choose for a dormitory knowing these rules? let me know. If you have remarks, suggestions, or questions you can always post them in the comments section, on my Facebook page, Google+ page or through Twitter.