A new week is just asking for a new blogpost. This week I'm going to write again about GenkiJACS. After the mile-long post of last week, I'm going to keep is a bit lighter this week. Nothing about teaching methods or study books, this week I'm going to talk about cultural activities and events that are organised in both Fukuoka and Tokyo.
Cultural activities
'GenkiJACS =
Japanese And
Culture School'
You can learn more then only the language at GenkiJACS. The name stands for Japanese And Culture School, and to be honest, without a background in Japanese culture it is sometimes difficult to comprehend the language.
You can choose to explore by yourself to experience the Japanese culture, but the school also offers different activities.
Cultural activities Fukuoka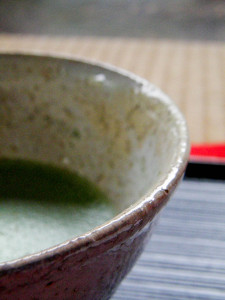 In 2013, when I was in Japan this were a few of the cultural activities that were offered in Fukuoka:
Tea ceremony, here you'll also get the chance to try on a yukata(traditional Japanese clothing)
Calligraphy, you will get your name in kanji, this way you can write your very own kanji name
Visiting a Japanese garden;
Make your own pottery. This will be baked. If you're not staying long enough in Japan for this, you can ask GenkiJACS to send it to your home address when it is ready.
In the high season these activities will change because of the many people visiting GenkiJACS. There are also extra activities like making plastic food.
Cultural activities Tokyo
The cultural activities in Tokyo 2013 were different. When I was there, these are the activities I have witnessed:
Make traditional Japanese snacks;
A visit to the imperial palace gardens.
These activities are now probably wider. At the moment of my stay at GenkiJACS Tokyo, the school had just opened only a few months before. They were still searching for different possible activities.
'These activities
are really
worth it'
They are perfect for people who are only staying in Japan for a short period. This way you can experience a few Japanese habits and you don't need to organize all this by yourself.
If you are not sure..

If you don't know if you want to participate in these activities at the time you book your stay, this is not a problem. Often there are one or two spots available for each activity. If you see that there is a planned activity that you want to try out when you're there, then most of the time you can still sign up. In the high season this chance will be much smaller.
Thursday is movie night
Every Thursday after class there is a movie night at GenkiJACS. They will choose a Japanese movie that you can watch together with your fellow student while eating popcorn. Don't be afraid, there will still be English subtitles. GenkiJACS has some nice classics like Spirited Away but sometimes you can discover an unknown gem.
Support
'They speak excellent
English, this way
there is no big
language barrier.'
The school offers great support. They help you in arranging your commuter's pass for public transportation. If you have questions or concerns you can always ask them. If you're sick or if you have a question about something, they always try to help. They speak excellent English, this way there is no big language barrier. I asked even them to help me organizing my short stay in Korea. At the end I only needed to go to the travel agency to get my tickets and pay.
If you want to buy a Japanese book, you can also order this at GenkiJACS. You'll even get a small student discount. Most of the time these books are cheaper than when you buy them in your own country.
Friday night party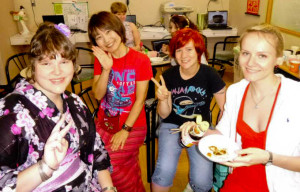 Every Friday GenkiJACS organizes an activity. This can be going out to eat or a party at GenkiJACS, organised by the students themselves. If you go out to eat, you'll get the chance to try new dishes. You get the opportunity to enjoy a bit of the Japanese nightlife.
Going out in Fukuoka
At the Friday night activities in Fukuoka you are most of the time accompanied by Japanese university students or  Japanese people who want to be in touch with western people. This is also a great way to make new friends.
Going out in Tokyo
In Tokyo , this was not the case . The Friday activities were real examples of nightlife. First we went to dinner with a number of teachers and fellow students. After that the party was further put in the entertainment district or in a nightclub.
Language Exchange Partner?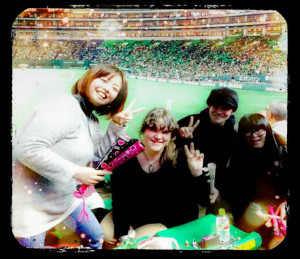 Japanese people can contact GenkiJACS when they want to meet western people for example to practice their English. The school tries to match these people with students in the Language Exchange Partner program. When you arrive at GenkiJACS you can apply for this. You will be asked to fill out a small question list about your age, language, hobbies, etc. GenkiJACS then tries to find someone of your age and interests. You can decide to meet and do some nice together. You get the opportunity to practice your Japanese and the other person gets the chance to learn more about your language and culture.
I did this, and it was worth it. In the beginning you may need to search a bit for someone with the same interest. But once you found your exchange friend, it is the best way to experience a lot of the Japanese culture.
Language exchange partner Tokyo
In Tokyo you couldn't do this when I stayed there. It's possible that now you can apply for a language exchange date in Tokyo, but I'm not sure. If someone knows, let me know.
For next week….
This was all for this week. Next week it will be my third and last part about GenkiJACS and the cities of Fukuoka and Tokyo. I'm also planning to compare both schools' positive points. I hope it will make it easier when you are still trying to decide which school fits you the best. See you next week.
If you have remarks, suggestions, or questions you can always post them in the comments section, on my Facebook page, Google+ page or through Twitter. See you next week.
Other GenkiJACS blogpost: