Finally!! I Virtually discussed briefly all my books. So what does this mean? This is the last post in this series about Japanese textbooks. On some subjects I have to many books and on other topics I can Maybe use some more books. Conclusion I can't take all these books with me. I already reach my limit on my luggage's weight. So which books di I take me to Japan? In part 7, Japanese study books: where to buy?
Japanese study books: Where to buy?
First , which books do I take with me?
 Genki (Book 2)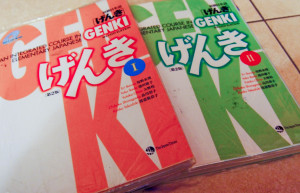 In my first two months I will go again to GenkiJACS. They use this book series. I think that I will start at the end of this book. So this is the first book that I will take with me , ( I can get a little bit money back XD)
A dictionary of basic Japanese grammar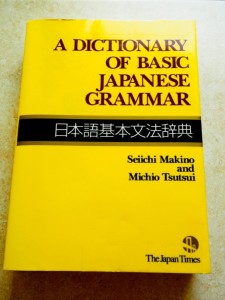 Not every book is as detailed that I understand it from the first time. Therefore I take also this book with me. It's is a heavy book. But if I want to study seriously, I have to have an additional source of information when the explanation is not so clear.
Nihongo so Matome books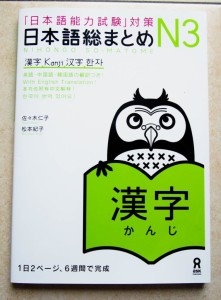 I bought these books to prepare myself for JLPT N3. (I had them perhaps better purchased in Japan), but all five ! Books I take with me .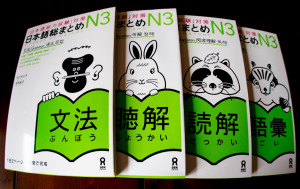 Electronic dictionary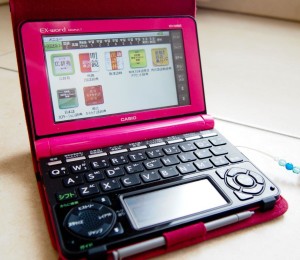 This help me to decrease the eight in my luggage a lot because it includes vocabulary , kanji and so much more. I would be foolish if I did not take this with me.
Where did I buy all my books ?
For those who have read all these post, are maybe wondering where I bought all my books. In this last part I'm going to try to answer this. I will not express any preference for a specific websites /stores. Each store/ website has advantages and disadvantages. But I have no negative experience with any of these website /shops that I mentioned today .
The websites everyone knows
On the Internet you can almost find everything. So the books that I've discussed can be found easily on the internet. You can always look at the well-known websites /online stores like Amazon, The Book Depository , bol.com ( for Dutch readers). You can almost always find the popular book series such as grammar books; Genki , Minna no nihongo or the kanji dictionary; Kodansha 's essential kanji dictionary . So if you are planning to buy a book , here you always try to see if you can find the book you are looking for .
Specialized website for Japanese books
But if you 're looking for a less known book or a very specific book that is published in Japan , it may be that you do not find these books on these websites. The next two websites I mention are specialized in Japanese textbooks.
White rabbit Japan,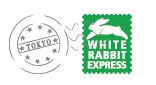 I have already mentioned this company several times before (under the name White rabbit press). It it's located in Japan that focuses on everything related from learning Japanese to Japanese gadgets. Sometimes they design Japanese learning materials, such as the kana and kanji flashcards where I talked about. Because they are located in Japan they have access to a lot of books that you've never encountered before. If you're looking for a book that was issued in Japan you can ask them if they want to buy it and send it to you.
Shipping is not free. The cost varies in the number and weight of books you buy. Shipping costs are not very cheap, but because you can choose between different shipping options can you decide which option you find worthwhile. All my shipments where arrived always good and on time. They wrap the books always good and they communicate clearly to customers. They also sell nice Japanese gadget and sweets. So if you're looking for something unique this website is also it worth to visit.
JP Books

This book store is based in London. They are only specialized in Japanese textbooks (no gadgets). You can find a wide range of Japanese study books here. From the most famous series, to unknown gems. They offer good service. You can immediately see on their website if the book is still in stock.
If you study Japanese at an university you can get a student discount. Again, you have to pay shipping costs. (Shipping is free from the purchase of a very high amount). The shipping costs are reasonable. And here to, you can choose from several shipping options. After you have placed an order everything is sent out very quickly. My orders have always arrived quickly and were always well packed.
Where should I buy now?
I buy my books at all the places that I mentioned. I always look first good to see if some website has a promotions. Sometimes it can be worth it to compare. But generally the prices vary little on both web shops (White rabbit Japan and JP books). And they both give a good service.
The normal book store
But of course you can also look for books on the regular old-fashioned way, in your local book store. Like JP books is a bookshop in London, you can also find in Belgium and in your own country stores specializing in language books. So try looking around a bit.
The end (Owari)
I finally finished my long series about Japanese textbooks. I hope you have discovered new and interesting books. Do you also have a good book or you want to share your own experience just comment.
Other post on Japanese study books:
(Part 7): Where to buy? *You are reading it*
If you have remarks, suggestions, or questions you can always post them in the comments section, on my Facebook page, Google+ page or through Twitter.
---
*Subscribe now on the weekly newsletter.

⇒

You can choose between ENG or the NL version*

(Look out for the confirmation mail to confirm!!)

---