Today there I come to the end of my comprehensive description about GenkiJACS. I'm going to write about the cities, Fukuoka and Tokyo, and the different accommodation.
GenkiJACS in two different worlds
Fukuoka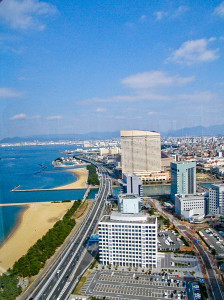 Fukuoka the biggest city in the south of Japan is a city that does not ring instantly a bell with many people. But with the youngest average age in Japan and with the most shopping centers it is quite a modern city. When you arrive at first you probably will be less intimidated then when you arrive in Tokyo.
In the rush-hour it is buzzy, but you are not taken with the flow of the walking people. The touristic places are often quit to visit and are not being over crowded with tourist. But just like in Tokyo you can discover some beautiful pearls to visit. They are often not difficult to reach, but you sometimes need to walk a bit longer then when you visit a touristic place in Tokyo.
Where can you find GenkiJACS?
You can reach GenkiJACS after walking for 10 minutes from Tenjin train station. The school is situated along a main road but is not really visible. The shop that is situated underneath it all the more. "Mandarake" is in Fukuoka a well known manga shop. You can get there almost everything regarding manga and anime.
Accommodation
"The distance
between school
and accommodation
is often closer
than in Tokyo"
GenkiJACS offers a wide arrangement of accommodations. The prices are lower than when you choose the same accommodation in Tokyo.
This are the accommodation possibilities in Fukuoka;
Host-family
Dormitory
A room in a shared apartment
A private apartment
Longterm private appartement
 My choice…… a host-family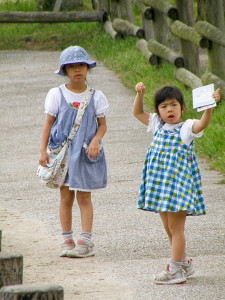 In 2013 I choose for a host-family. They lived in an apartment and had two adorable girls. Breakfast is include when you choose for a host family. Dinner is an extra, but it is an option. I needed to notify at last at the morning if I wanted to eat dinner with my host family. (It only cost 500 yen). From my host family to the school it only took a 10 minute train ride.
In the weekend I was like a real family member. I got the change to witness school festivals, birthdays, family visits, etc.. It is the perfect way to enjoy the Japanese live.
Tokyo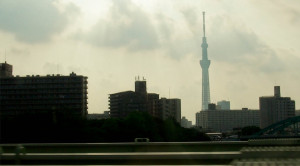 Tokyo, the capital city is the best know city of Japan. To visit Tokyo and its famous districts is probably a wish of many people. You first experience with Tokyo can be a bit intimidated because it is both a touristic as an business city. Throughout the day there is a flow of people in the crowded places that can  take you with them if you do not watch out. Finding your own rhythm in the beginning is not easy in a city that never sleeps. Many of the major attractions are located close together and are easily accessible by the extensive public transportation.
Where can you find GenkiJACS?
GenkiJACS Tokyo is located in the middle of Tokyo. From the busiest train station in the world, Shinjuku Station you only need to walk for 10 minutes. You should look for the one of the entrances to the Hanazo shrine. Because GenkiJACS is not visible from the main road.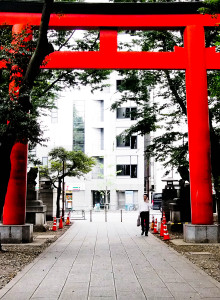 After walking through the red temple gates you find yourself in a small green oasis amidst the city. GenkiJACS is located in one of the buildings that are built around the shrine.Even though the building is surrounded by other high office buildings it still has bright classrooms. Because GenkiJACS is located right next to the Hanazo temple, where you often find small bits of nature  you have a nice view of the tall trees and the temple. Therefore the noise of the city fades a bit into the background.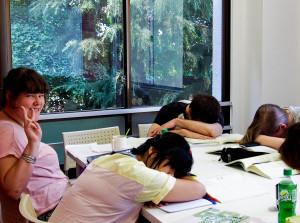 Accommodation
GenkiJACS Tokyo offers various accommodation possibilities. The prices are a little bit more expensive and distances to the schools is often slightly longer than in Fukuoka .
GenkiJACS Tokyo offers the following accommodation possibilities:
Host family
Guesthouse
Dormitory
A private apartment
My choice….. a guesthouse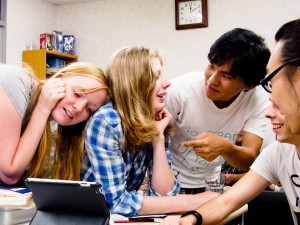 I choose for my stay in Tokyo for a guesthouse. You have a private room, but the bathroom and the kitchen are shared with other residents. It was located in a suburb of Tokyo; Fuchu. By train you arrived in 30-40 minutes in Tokyo. The room was spacious and clean and the people were  very open and social.
"I found myself often
in the situation where
the train attendants
needed to push passengers
on the train"
I found the distance to GenkiJACS Tokyo sometimes uncomfortable because you only had every 30 minutes a train. In the summer it is possible that you are compressed for 40 minutes in a train with the uncomfortable summer heat.
Where do I want to go?
I choose for Tokyo because…
I really want to visit Tokyo with its famous neighborhoods.
I can find my way in one of the world's buzziest cities.
I want to witness and enjoy the real nightlife of Tokyo.
I do not mind longer travel time from my residence to Tokyo
I choose for Fukuoka because…..
I want to quietly enjoy Japanese life
I can quickly enjoy culture, nature or city life
I do not mind walking a little bit before I get to my destination
I want to have my accommodation close, so I do not lose too much time to travel to the school.
I just pick both … .
The advantage of that GenkiJACS schools are located in two different cities ensures that you can enjoy both cities by simply deciding to go to both schools. It is the ideal way to enjoy two different sides of Japanese culture and learn the language .
The learning method and the books are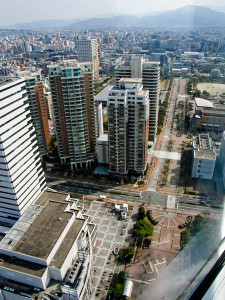 the same. Note that both schools might not have a class at the same levels. It may be that when you switch between schools you need to do extra homework because you need to study a chapter or two by yourself.
The end (終わり)
with this I reach the end of my blogpost serie about GenkiJACS. I hope these blogpost will make it a bit easier when you want to make a choice.
If you have remarks, suggestions, or questions you can always post them in the comments section, on my Facebook page, Google+ page or through Twitter. See you next week.
Other GenkiJACS blogpost: